http://transmission.ensad.fr/final.html
http://www.indianen.be/work/longhand-publishers
st.
http://www.la27eregion.fr/videocagette-des-videos-faites-maison-dans-ladministration/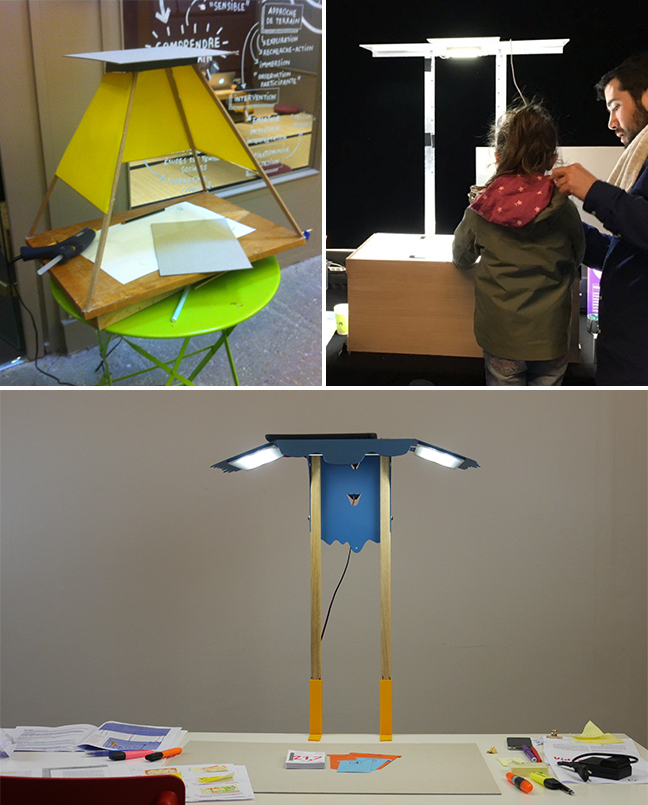 du nouveau post.
http://projets-ima.plil.net/mediawiki/index.php?title=Fabricarium_-_partage_simplifi%C3%A9
Cubetto | Programmer avec des blocs
http://www.fastcocreate.com/3057535/creation-stories/teaching-children-how-to-code-without-screens
Projet de diplôme
http://www.gaelgouault.com/page_article/4/page_logibox.html
http://pasapas-project.com/
http://www.chronotape.com/
http://big.cs.bris.ac.uk/projects/mobile-kinect/
Probes intéressants et design d'un mobile device with Kinect
Cati Vaucelle
2007
MIT (Tangible Media Group)
http://web.media.mit.edu/~cati/Interact_Cati_Presentation_web.pdf
« From GUI to TUI »
The tangible potential of the direct use of video container for movie creation:
– allow a more transparent relationship between shooting and editing
– enhance collaboration at various levels of production: from shooting to experiencing to creating a composed sound-video
– privilege improvisation for spontaneous creativity
– the reinvestigation of the video & sound medium, allowing a direct and immediate understanding of the effects of combining these elements together.
Hayes Raffle
2006
MIT (Tangible Media Group)
http://www.rafelandia.com/jabberstamp/brochure.pdf
Full paper
« Talking Stories »
Jabberstamp is a tool that allows children to synthesize their drawings and voices. To use Jabberstamp, children create drawings, collages or paintings on normal paper. They press a special rubber stamp onto the page to record sounds into their drawings. When children touch the marks of the stamp with a small trumpet, they can hear the sounds playback, retelling the stories they created. This porject analyses the mechanism between the act of drawing and the one of telling, defining interdependencies between the two activities.
Cati Vaucelle
2009
MIT
http://web.media.mit.edu/~cati/PictureThis_Ubicomp.pdf
« Gesture Object Interfaces »
Picture This! is a new input device embedded in children's toys for video composition. It consists of a new form of interaction for children's capturing of storytelling with physical artifacts. It functions as a video and storytelling performance system in that children craft videos with and about character toys as the system analyzes their gestures and play patterns.
Tara Shankar
2005
MIT
http://web.media.mit.edu/~mikhak/courses/tsr/readings/tara-phd.pdf
« speak + write = sprite »
Spriting in its general form is the activity of speaking 'on the record' that yields a technologically-supported representation of oral speech with essential properties of writing such as permanence of record, possibilities of editing, indexing, and scanning. This project analyses two technology-supported representations of speech: (1) the speech in audible form (2) the speech in visible form. The product of spriting is a kind of 'spoken' document, or talkument.
Mike Annany
2001
MIT (Tangible Media Group)
http://tmg-trackr.media.mit.edu/publishedmedia/Papers/275-Telling%20Tales%20A%20new/Published/PDF
"Tangible story processor"
TellTale is a story construction kit for children. The design consists of a number of modular body components and one head piece that are used to record and play audio segments created by a child, or by several children. The body parts can contain stories or story fragments that can be combined in different orders to create new narrative configurations.